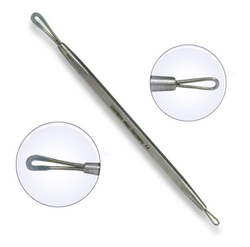 Lia Reese Cosmetics
Comedone Extractor
Comedone Extractor with 2 Loops features teardrop-shaped loops to help aid in the removal of deep open comedones ("black heads"), or safe, sanitary removal of stubborn closed comedones ("white heads").

One end has thin wire, for aiding in the removal of more sensitive or even the tiniest of comedones and the other end has a wider and flatter loop to be used on larger, more difficult comedones. Composed of stainless steel, this German-made blackhead extractor has a rectangular handle that becomes rounded closer to the loops for a sturdy and sleek design. To sterilize, wash thoroughly with soap and water to remove residue, then submerge in boiling water for 2-3 minutes, before cleaning with alcohol or disinfectant. Store in a dry area, and always clean before use. Do not share extractors.  

USE WITH EXTREME CAUTION AND UNDER THE INSTRUCTIONS OR CARE OF A SKIN CARE PROFESSIONAL ONLY. CONTACT A LIA REESE SKINCARE PROFESSIONAL TODAY.