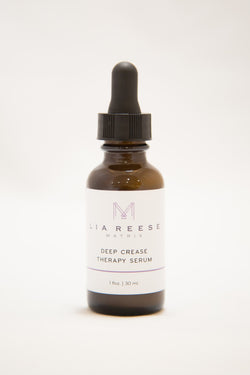 Deep Crease Therapy Serum
Skin Type:  Mature/Anti-Aging Skin, Oily/Combination; Dry/Sensitive; Normal/All Skin Types
Deep Crease Therapy is a remarkable serum that supports skin density that results in an enhanced, youthful appearance. This affirming serum contains an Aminovector™ solution derived from Isoleucine, an essential amino acid, known for its ability to activate tissue restoration of vital proteins that support the structure of the skin.
Directions for use: Liberally apply 2 to 3 drops onto clean face and neck in the am and pm.  Allow to absorb.
Feature Ingredients: Voluform™, Geranylgeranylisopropanol, Adifyline® Peptide Solution; Acai Fruit Extract; Wild Yam Root Extract
If you are unsure if this product is right for you, please contact a skin care professional today!