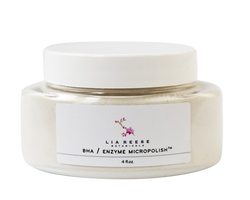 Skin Types: Normal/All Skin Types except for very Sensitive
Looking for an at home micro-dermabrasion facial treatment? Try this incredible exfoliating micro-polish as it will leave your skin feeling silky smooth!
Reveal radiant skin with this botanical exfoliating powder that unearths a sleek, velvety fine texture. Micro rice powder is boosted with skin refining Oat, Silica, Papain, Black Walnut and Beta-hydroxy Salicylic Acid which polish and renew topical texture. When blended with water, you will enjoy a smooth paste that can be applied directly to desired areas or mixed with your favorite cleanser for a creamy, foaming scrub. 

Directions for use: Dispense a 1/3 scoop of into palm of hand. Gradually add a few drops of water, mixing to create a paste of your desired consistency. Apply to face in circular motions, avoiding the eye area. Massage gently for up to two minutes taking caution not to over stimulate the skin. Rinse to remove.

Feature Ingredients: Rice Powder; Oatmeal Powder; Papain; Licorice Root Powder; Silica; Potato Powder. 
If you are unsure if this product is right for you, please contact a skin care professional today!