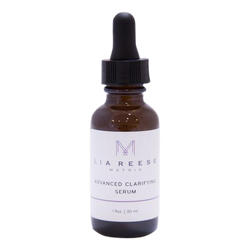 Advanced Clarifying Serum
Skin Type: Oily/Combination, Hyperpigmented, Mature/Anti-Aging Skin
Advanced Clarifying Serum is a clarifying treatment serum offering exfoliating Lactic Acid, Salicylic Acid, Azelaic Acid and illuminating Niacinamide.  Equilibrium seeking Sulfur and Tomato Fruit Extracts support balance within the skin while refreshing Lemon Alcohol awakens and targets surface debris that can obstruct a radiant appearance.
Directions for use: Dispense and apply 1 - 2 drops of serum onto clean skin in the am and pm. 
Feature Ingredients: Cutipure CLR™; Tea Tree Oil; Denatured Lemon Alcohol; Salicylic Acid; Ferulic Acid; Tomato Extract 
If you are unsure if this product is right for you, please contact a skin care professional today!