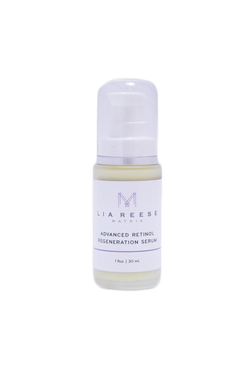 Advanced Retinol Regeneration Serum
Skin Type:  Mature/Anti-Aging Skin, Hyperpigmented Skin
Advanced Retinol Regeneration Serum is a specially formulated Peptide-enriched treatment that elevates cell turnover while addressing fine lines, loss of resilience and loss of radiance. Natural Fig Extract supports collagen synthesis while fortifying against free radicals for a more structured patina.
Directions for use: Apply to targeted areas or all over face and neck in the evening after cleansing and toning, allowing to penetrate. The retinol in this product may increase skin's sensitivity to sunlight. Wearing a sunscreen daily is highly recommended. A patch test is highly recommended at least 24-48 hours prior to first application.
Feature Ingredients: Cariciline-Organic; Bisabolol; Retinyl Palmitate; Retinol; Palmitoyl Tripeptide-5; Resveratrol; Green Tea Extract
If you are unsure if this product is right for you, please contact a skin care professional today!