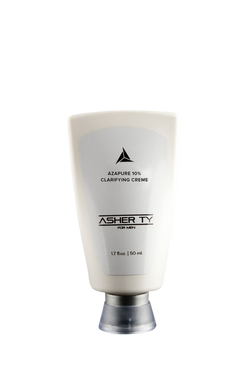 Azapure 10% Clarifying Cream
Skin type: Oily/Combination Skin, Dry/Sensitive, Hyperpigmented Skin
Elevate radiance with this Clarifying Cream offering a powerful blend of natural source skin conditioners that aid in the uniformity and radiance of the skin. Niacinamide, Azelaic Acid, Vitamin C and Arbutin nourish and enhance the appearance of skin lacking equilibrium. The pillow-like texture of this marine origin hydrator wicks away excess topical oils leaving a superb matte finish.

Directions for Use: Following cleansing, apply a small amount of crème to face and neck and massage in gently. Allow 1-2 minutes for full absorption. Slight tingling may be experienced, which is normal, but should subside in a few moments.

Feature Ingredients: Azelaic Acid; Niacinamide; Arbutin; Vitamin C
If you are unsure if this product is right for you, please contact a skin care professional today!