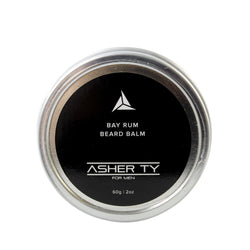 Beeswax and Shea butter help provide protection to the hair against the harmful free radicals in the air and water and in harsh weather conditions. 
Description: This amazing balm softens the beard, tames the strays, adds definition, and gives a nice manly shine.
How to Use: This wax formulation helps shape and form your beard while locking in moisture. After you shower and dry your beard, apply a dime sized amount in your hand.  Massage the wax into the hair and roots, while shaping your beard. Apply on a daily basis to help your beard feel soft and healthy.
Ingredients: Vitis Vinifera (Grape) Seed Oil, Cocos Nucifera (Coconut) Oil, Cera ALba (Yellow) Bees Wax, Butyrospermum Parkii (Shea Butter), Argania Spinosa (Argan), Kernal Oil, Pimenta Racemosa, Pimenta Officinalis Oil, Lime Oil, Cinnamomum Verum, Sygium Aromaticum L, Citrus Aurantium Dulcis Peel Oil, Organic Flavour Oil, Rosmarinus Ocinalis (Rosemary) Leaf Extract.
If you are unsure if this product is right for you, please contact a skin care professional today!