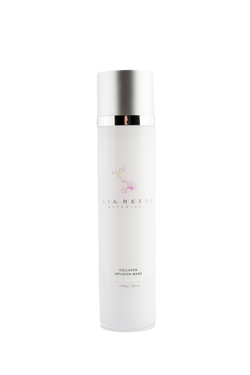 Phyto Collagen Anti Oxidant Mask
Skin Type: Dry/Sensitive/Dehydrated, Mature/Anti-Aging, Environmentally Stressed

Restore hydration and suppleness with this yeast-derived plant-based collagen treatment mask. Jojoba, Rosehip, Avacado and sunflower seed oils pamper skin with nourishing vitamins that enhances hydration and vibrancy. Antioxidant green, white and red teas blend with Acai Berry, Vitamin E and C to offer added nutrition to devitalized skin. Treat your skin to this non-greasy formula that will leave your complexion looking smoother and more vibrant with each application. 

Directions for use: After cleansing, apply a thin layer of mask over face and neck and allow several minutes to absorb. Mask may be left on or removed with tepid water. Mask may be used two to three times weekly.
Feature Ingredients: Rosehip Oil; Avocado Oil; Jojoba Oil; Vitamin E; Plant derived Collagen; Lavender Flower Oil
If you are unsure if this product is right for you, please contact a skin care professional today!