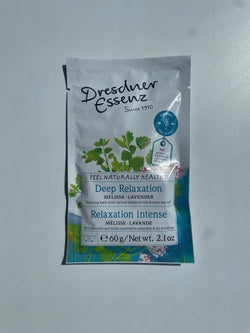 Lia Reese Gift Collection
Dresdner Essenz Deep Relaxation Bath Salt
The restorative Deep Relaxation health and wellness bath additive with the effective essential oils of lavender blossoms and Indian Melissa refreshes you when you're feeling tired and offers relief from a hectic, stressful day.
Features & Benefits:
Contains citronella oil, lavender oil, lemon balm extract, palmarosa oil, sea salt and sesame oil.
The Indian Melissa oil helps to restore your inner balance so you can relax.
Sesame oil combined with wheat protein and panthenol leave your skin feeling silky and well cared for.