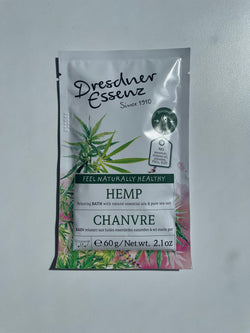 Lia Reese Gift Collection
Dresdner Essenz Hemp Bath Salt
The Dresdner Essenz hemp bath salt is a balancing bath additive based on Dead Sea salt to promote well-being after a hard day.
The selected combination of proven natural active ingredients has a beneficial and soothing effect. Valuable essential oils of Indian Melissa and Patchouli help to relieve tension and let your body and mind forget about everyday stresses.
The essential oils combined with the heat of the water improve the overall sense of well-being. Pure Dead Sea Salt is rich in valuable minerals and, in combination with hemp oil, naturally nourishes the skin.