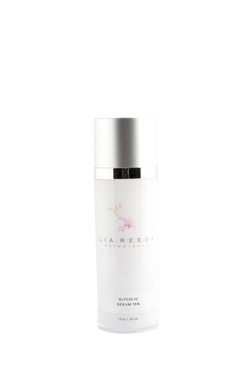 Skin Type: Normal/All Skin Types except for very Sensitive
Glycolic Serum is a traditional exfoliating treatment that offers Alpha Hydroxy-Glycolic Acid in a vitamin enriched anti-oxidant cocktail. When applied regularly this serum can condition the skin for a clearer, renewed glow.
Directions for use: Once to twice weekly. It is recommended to be used at night after a thorough cleansing, avoiding eye area. To use, dispense 1 to 2 drops onto dry, clean skin. Allow to absorb.
Mode d'emploi: Une ou deux fois par semaine. Il est recommandé de l'utiliser le soir après un nettoyage en profondeur, en évitant la région des yeux. Appliquer 1 ou 2 gouttes du produit sur la peau sèche et propre. Laisser pénétrer le produit.
USE ONLY AS DIRECTED. Avoid contact with the eyes. If irritation persists, discontinue use and consult a physician. It is recommended that prior to exposure to the sun, users cover areas where ahas have been applied with sunscreen. Contact of the product with the skin must be of limited frequency or duration. 
SUIVRE LE MODE D'EMPLOI. Éviter tout contact avec les yeux. Si l'irritation persiste, cesser l'utilisation et consulter un médecin. Avant toute exposition au soleil, il est recommandé d'appliquer un écran solaire sur les régions où le produit contenant des AAH a été appliqué. Le contact du produit avec la peau doit être de fréquence ou de durée limitées.  
Feature Ingredients: Glycolic Acid; Organic Aloe Extract; Vitamin E; Allantoin
If you are unsure if this product is right for you, please contact a skin care professional today!