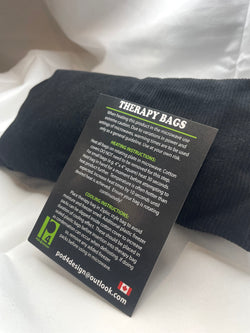 Lia Reese Canada
Therapy Bag
Therapy Bags provide all natural hot or cold relief for aches, pains and stress. 
Made of clean Canadian whole wheat, our bags come with 100% cotton covers that are removable for washing. Soft cotton quilting fabric on the front and soft, cozy corduroy on the back offer two temperatures to choose from based on thickness of the fabrics.
Therapy Bags can reduce fever and inflammation when frozen. When heated in the microwave, our bags offer a soothing heat for aches and pains without a strong odor.
In addition Pod4Design Therapy Bags provide relief for those suffering from arthritis, sore muscles, sore throat, growing pains, sport injuries, migraines, TMJD, menstrual cramps, dry eye syndrome, toothaches, sciatic nerve pain, rotator cuff injuries, sinus problems, mastitis, etc.